Hybrid training
increased training for our customers and their teams!
We build blended learning solutions that include face-to-face, distance learning, synchronous and asynchronous sessions.
The engineering of the solutions and the selection of the tools by our teams allows us to obtain the right balance of Blended for :
Prioritise educational effectiveness and the quality of the solution's output
Integrate the geographical and technical constraints of our clients
Take into account the availability of our clients' teams.
Hybridization is also possible for our coaching and skills assessment activities.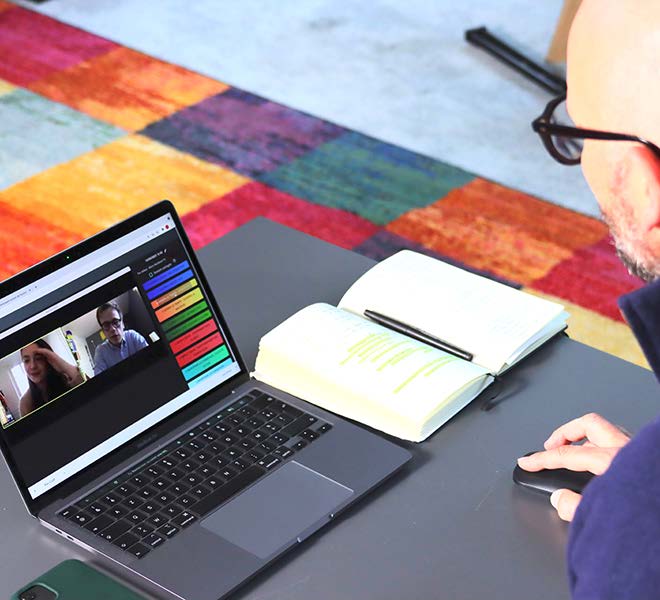 The added value of blended learning :
Tailor-made courses
A blended learning pathway that is both structured and self-paced, with specific documentation, videos, surveys, exercises, secure work areas, dialogue and evaluation zones, etc. Participants can adapt their pace to suit their needs.
DISTANCE LEARNING
Remote commercial or managerial relations are a daily practice.
So what better way to progress in this field than to train at a distance?
Our video training solution, which comes from the world of high-level sport, is 100% effective and adapted to this learning mode.
INDIVIDUALISATION
Each individual need is identified and taken into account when developing the specific solution adapted to the project's challenges. The customisation is done within the framework of courses integrating exercises and tailor-made e-learning modules, within the framework of individual and/or collective remote monitoring.
Commitment and support
Blended learning courses and digital platforms enable learners to be mobilised over a longer period of time than the traditional classroom format. This guarantees greater commitment and easier anchoring.
Accessibility
All exercises and video scenarios can be carried out synchronously or asynchronously, and are 100% accessible at all times, in the field, at home, or at the workplace
Deployment without geographical limits
No more distance-related obstacles! Simultaneously offering training courses to employees located all over the world allows a homogeneous increase in skills
Digital platforms
CROSS KNOWLEDGE
Training and skills assessment
Deployable without geographical constraints
Engaging over time for greater educational effectiveness
Include regular individual or group follow-up – monitoring of skills
Allow continuous measurement of skills development
Collective steering and dashboard
Logistics adapted to each geography, each team and each learning level
VYFE
Training, distance coaching
Video recording of exercises and meetings

By video conference (computer) or by telephone
One or more cameras

Live or delayed analysis

Via the performance criteria

Sharing and debriefing videos

Collective or individual feedback
Help from the Coach or Manager
Teach Up
Adaptive Learning
Teach Up is a platform that accelerates the digitisation of your training courses and makes everyone successful thanks to Adaptive Learning. As an authoring tool, it allows us to build digital capsules that are 100% adapted to the content.
We use different reference platforms, specifically selected to meet the educational challenges of our solutions in line with our philosophy: digital and interactive learning and anchoring!